September 30, 2020, 04:56:26 pm
Welcome, Guest
News:
Chat button has been eaten. Click here to join in the idling fun!
Show Posts
This section allows you to view all posts made by this member. Note that you can only see posts made in areas you currently have access to.
Topics - Shoe
Pages: [1]
4
« on: February 13, 2008, 05:03:25 pm »
Oh and I had a virus for two weeks.
5
« on: December 20, 2007, 01:13:43 pm »
Just a thought so other people can make really really hard levels that others could play. My keyboard is dieing and I want to post this before i couldnt type anymore.
6
« on: December 19, 2007, 05:05:47 pm »
The last part where you jump through the yellow/black strips to get to the end, you go through the block with the green vine on it so it's really hard to get past with good timing.
I even got stuck in it for going too fast. The reason I went fast is because for some odd reason, you dont jump with the cart like you usualy do, which messes me up to get on that little platform. You slow down right about here: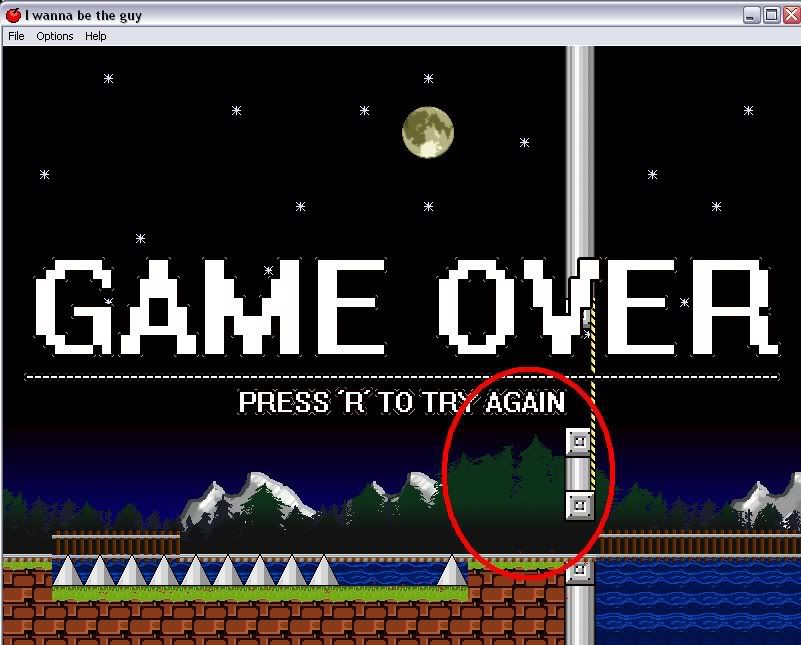 Make a note if you stop at all, you cant make the next spike. You just hit it unless you're lucky.
7
« on: December 09, 2007, 05:04:48 pm »
When I started the game on medium, it was recording deaths (I think). By some point in the game, It became stuck at 39. I do know that if i start the game and get to the next save point, no deaths are counted. But that doesnt always happen. Ive at least died like 150+ times.
8
« on: December 09, 2007, 12:24:41 am »
I cant seem to get to it. I've managed to do everything else.

PS: Im a wuss.

EDIT: nevermind i got it. I feel stupid now.

EDIT: dont know how to beat it though.
Pages: [1]